Waterjet technology allows to process materials of maximum 200mm thickness, without risk of being damaged.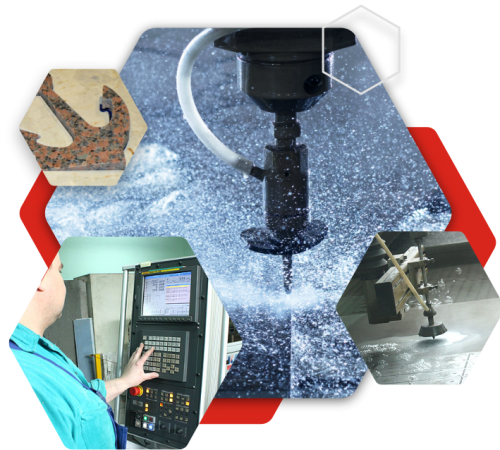 Waterjet technology allows cutting different materials with extremely high-pressure jet of water. Use of abrasive material allows cutting titanium, granite or marble.
Which kinds of materials can we cut?

wood

steel

titanium

Aluminium

granite

marble

ceramic

sheet metal

plexiglass

tiles

glass

Gres

rubber

sponge
In Trimet we use professional machines from Europe's leading manufacturer of water cutting systems Water Jet Sweden, which allows very precise cutting of different materials without any damage.
Maximum size of workbench is 3000x1500 mm. Abrasive water jet technology lets us cut a wide variety of shapes and sizes, from tiny to very big.
Maximum thickness
of material
What is water jet cutting process?
The mixture of high-pressure water and abrasive material is modern machining tool for cutting very hard materials such as granite, without product contact. Due to pressurized water pushed through abrasive waterjet nozzle, this technology allows very precise cutting. Addictionally water cools the material and prevents overheating while industrial treatment.
There are many reasons why Waterjet cutting is preferable over other methods. It doesn't change the properties of the material. This technology allows for very precise and efficient cutting, that is why we are able to cut a wide variety of shapes (even extremetly detailed parts) with minimal waste of material. Due to CNC controller drawing may be quickly transfered into cutting, and it also makes calibration easier, which is why it can be used in mass production.
Fast pricing of waterjet cutting
Trimet working hours
Monday - Friday
7.00 a.m. - 3.00 p.m.